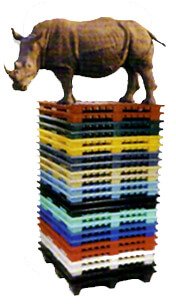 Fame Storage system Pvt Ltd is a premium manufacturer and supplier of Plastic Pallets, heavy duty plastic pallets, Industrial Pallets, , racking pallet, custom pallet, drum pallet, light weight pallet, four way pallet , Plain Top Pallet, Perforated Pallet, customized pallets, Export pallet, Euro pallet, Storage pallet, injection molded pallet, Roto molded Pallet, HDPE pallet, PVC Pallet, high quality pallet, Cargo pallet, Cheap pallet, Food grade Pallet, Shipping pallet, Poly Pallets, Warehouse pallet, we are one of the fast growing plastic pallet manufacturer & supplier. We would always try to be better than other Plastic Pallet Companies. We are also Manufacturer & supplier of Storage systems, industrial storage systems, warehouse storage systems, material storage systems which include, heavy duty pallet racks, mezzanine floors, cantilever racks, display racks, and steel structure. We provide complete storage solution in one roof.

Our assortment has gained huge appreciation in the market and finds diverse application in various manufacturing companies. We have built a reputation by providing our esteemed clients customized solutions that are made in accordance with their specifications. Our entire range of products are undergoes stringent quality tests. We create value for our clients and our partners in business.

While at the same time, our measures ensure that we fulfill the diverse needs of customers. We view this in terms of long-term competitive advantage we achieve by providing superior products for wider applications from both quality & economic viewpoints. We are committed to supply good quality products, excelling laid down standards to delight our customers by continually upgrading our skill by maintaining a speedy and a flexible approach we have been able to provide a stable and reliable supply base for our customers.